The K&N Electronic Carburetor Injection, or ECI, is a bolt-on system that adds a supplemental fuel source to your engine. The system consists of a carb spacer plate with a fuel block and injector, an ECU, and a wide band O2 sensor. The plate has a provision for the fuel injector. When needed, the injector squirts atomized fuel into the air stream passing through the spacer plate.
In a way, the ECI system works like an EFI system that reads the air/fuel ratio fed to it from an included O2 sensor that you install in your exhaust. Where this differs from EFI is that it is used in conjunction with the carburetor. Any time the system detects a lean condition, the injector kicks on to bring the AFR back to spec, but the engine is still fed primarily by the carb.
The brain of the ECI system is the ECU. It constantly reads input from the included O2 sensor and monitors the air/fuel ratio. Before you fire the engine for the first time, you answer a few simple questions and set parameters for the system to follow. One of those parameters is AFR. If the system detects an AFR higher than the user-defined limit, the weatherproof ECU tells the injector to fire.
K&N's ECI can be installed in your driveway in a matter of hours, not days. And after setting five simple parameters, it can tune itself.
Features
Add supplemental fuel to your engine to keep high-HP engines running smoothly.
Includes carb spacer plate, fuel block and injector, ECU, and wide-band O2 sensor.
Define AFR parameters and the system responds to changes on the fly.
Also set parameters for injector pulse width, shot volume, progressive injector firing, and min/max RPM range.
Installs in a matter of hours—not days.
No need for 3D mapping software or vehicle tuning.
To find your nearest Parts Pro™ affiliate, see our Store Locator. Or join the conversation at the Parts Pro™ Facebook page!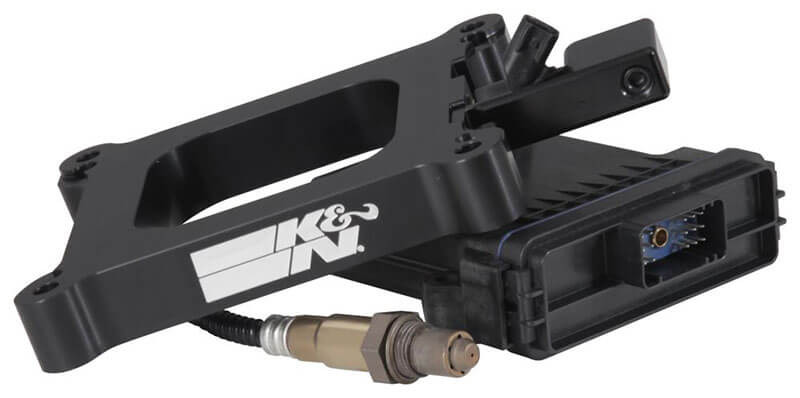 Though this is not a paid review, this content has been produced by The AAM Group™ in support of manufacturers with whom it has a business relationship.